Recycle with EPA ~
Entrepreneurial Paper Activities
Overview How can students Think Globally, Act Locally? A team of ungraded high schoolers and bilingual ninth graders responded to this challenge by applying recycling guidelines to a venture capitalist model. Students visited a recycle center and a plastic s museum to assess how discarded material can evolve into useful and/or aesthetic objects. Identifying paper overuse as a major school problem, the young entrepreneurs hosted representatives from Earthworm, Inc. and learned how to recycle school paper. They tested local river water with Vista volunteers from the Urban Ecology Institute at Boston College and shared results with the school community. Brainstorming ways to reuse paper, they researched and shared the history of paper making; constructed a giant paper tree from recycled paper; made hundreds of origami miniatures and personalized Chinese calligraphy art. A Recycling Fair for the entire school involved hands on demonstrations of papermaking, computer slide presentations, and EPA exhibits. The enthusiastic response to their displays corroborated student findings: Turning trash to treasure can help communities and may lead to a wide array of careers.
Classroom Activities

Community Activities

Career Activities

| | |
| --- | --- |
| • | Conduct online research for recycling information. |

| | |
| --- | --- |
| • | Create flow chart of recycling practices/methods. |

| | |
| --- | --- |
| • | Begin weekly collections of paper from classrooms, library & office. |

| | |
| --- | --- |
| • | Test water quality in river inlet adjacent to school. |

| | |
| --- | --- |
| • | Construct giant paper tree for Earth Day display. |

| | |
| --- | --- |
| • | Make hand made paper from collected waste. |

| | |
| --- | --- |
| • | Apply geometry skills to production of origami miniatures. |

| | |
| --- | --- |
| • | Use Chinese calligraphy to produce student names & addresses on recycled paper. |

| | |
| --- | --- |
| • | Prepare & distribute handouts on paper recycling campaign. |
| • | Consult with students from different school areas on efforts to reduce paper usage. |
| • | Total amounts of collected paper, graph & report results. |
| • | Distribute water testing results to school community. |
| • | Display Earth Day tree outside main office |
| • | Plan & host Recycling Fair for entire school. |
| • | Display & distribute origami miniatures & Chinese calligraphy. |
| • | Include fair participants in paper making demonstration. |
| • | Present computer slide shows to fair participants. |

| | |
| --- | --- |
| • | Tour school recycle station & collaborate with custodial staff on paper collection. |
| • | Interview guest speaker from local recycling transfer station on institutional paper recycling. |
| • | Organize an Earthworm, Inc. classroom presentation. |
| • | Observe & participate in manufacturing (nylon, plastic molding with injection & hot pressing) at plastics museum. |
| • | Research careers in. waste management, engineering & recycling. |
| • | Discuss ecology careers with Science teacher & Vista interns from Boston College Urban Ecology Institute. |
| • | Discuss ways to create & stock recycled art at school store. |
Learning Standards English Language Art

•
Understand & use the writing process effectively.
•
Use various formats & technology to complete & enhance work.
Learning Standards English Language Art

•
Develop an understanding of the positive, practical results that can accrue form turning an environmental liability into an asset. Transfer knowledge gained to other similar situations.
•
Understand the need to treat potentially hazardous materials.
•
Understand how humans use technology & the design process to respond to the natural world & to solve everyday problems.
•
Identify aspects of social & personal issues that can be addressed through scientific study.
Learning Standards Math

•
Collect, organize & describe data.
•
Construct, read & interpret data.
•
Apply knowledge of measurement in the construction of two & three-dimensional figures.
School to Career Competencies

•
Practice Communication & Literacy Skills.
•
Organize & Analyze Information.
•
Problem Solve.
•
Use Technology.
•
Understand All Aspects of the Industry.
Assessment Results of student surveys, graphs, and experiments are recorded to evaluate on-going science and math activities. Products, including computer slide shows and recycled art, are assessed on appearance and completion. Student interactions and contribution during tours, interviews, and presentations are evaluated through teacher observation and peer review.
Software or Materials Used For research: Internet access; for computer slide show: Microsoft Office; For Entrepreneurial Paper Art: paper making materials including recycled paper, blender, water, aprons, gloves, frames; for documentation: camera. and film; for literature: Recycle with EPA Book List.
Web Sites Web Sites for Recycle with EPA
Keywords Environmental Science, Ecology, Origami, Paper Making, Paper Recycling, Re-use, Re-duce, Re-cycle, Recycled Art, Student Entrepreneurs, Think Globally Act Locally, Water Testing
Final Words Recycling together can lead to the unexpected. We were thrilled with the growing friendships between our two classes. Students with diverse backgrounds and disparate skills learned that teamwork inspires respect. Schoolwide response to the recycled art was also surprising. At the fair, everyone wanted an origami miniature. The line to the calligraphy station was endless because kids loved seeing their own names and addresses spelled out in traditional Chinese characters.
Teacher Tip We asked staff and teachers to contribute recycled "treasures" for Recycling Fair prizes. Fair visitors were invited to sort available recyclable items - aluminum can, small battery, plastic bottle, paper, etc - into appropriate bins. As a result, everyone owned a bit of the project.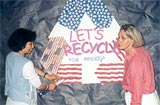 E-mail contact Karen Prussing kprussing@hotmail.com
Su-Chih Sun
ssun4him@hotmail.com
Teacher Bio Karen Prussing teaches Business and Office in the Occupational Skills Development Center (OSDC) at Charlestown High, a School to Career School. Among her job training achievements is the school store run by her SPED students. No stranger to "teacher as entrepreneur," Karen supports the school's Young Entrepreneur Project and has written a proposal to help fund a student photo ID program. Her collaboration with Bain Consulting has produced a copying machine for her classes. Serving on the schoolwide Annenberg grant committee, lets this Lead Teacher forge strong relationships with department representatives and encourage "newly-minted" teachers to join a school-based cadre of dedicated, competent professionals.
Su-Chih Sun teaches Unified Science and Algebra to bilingual students at Charlestown High School. Prior to coming to the Boston Public Schools in 1999, this proud mother of three taught Chinese heritage and language at a church school, and received Outstanding Teacher Awards from the North American Council of Culture Affairs, Boston Office (Taiwan, R.O.C.). When discussing career opportunities with her students, Su-Chih capitalizes on her past experience as laboratory assistant at Brigham and Women's Hospital where she co-authored publications for science journals.
Subject Areas SPED - Vocational Skills - Business and Office; Science, Math
Grade Levels Chinese bilingual 9th graders worked with ungraded high school students
Students Collaboration between Special Education Students in the-Occupational Skills Development Center (OSDC) and Chinese Bilingual 9th graders. Adaptable for all middle and high school students.