Extending Hands of Friendship
To Veterans & Japanese E-Pals
Overview This yearlong unit lets students connect Classroom~Community~Careers through shared activities with younger students, visiting veterans, and Japanese e-pals. Writing biographies and creating dolls of notable Americans lead to an exchange about the effects of war. Honoring veterans and listening to their stories personalize American history. Book publishing, interviewing, and presenting at special occasions help students develop skills in writing, social studies, technology, and civic responsibility. A Technology Check List for Parents and Students supports student new media projects with Integrated Classroom Activities.
Classroom Activities

Community Activities

Career Activities

| | |
| --- | --- |
| • | Research American wars on Internet |
| • | Read & discuss Sadako and the Paper Cranes. |
| • | Use Biographical Outline for information on notable people in American wars. |
| • | Write Biographies of Notable Americans. |
| • | Create fabric dolls of notable Americans & dress in historically accurate clothing. |
| • | Reflect on impact of war & veterans' contributions through class discussions, conferences & correspondence with veterans & e-pals. |

| | |
| --- | --- |
| • | Interview veterans & show appreciation with student made holiday gifts. |
| • | Learn about Japanese Doll Exchange Program. |
| • | Contact Japanese class & begin e-mail exchange. |
| • | Prepare letters, brochures, computer slide presentations for school based Veteran's & Memorial Day performances. |
| • | Invite younger students to all veterans-related events. |
| • | Display dolls & explain their significance to community, veterans & Japanese e-pals. |
| • | Reflect on how service activates social studies learning. |

| | |
| --- | --- |
| • | Interview veterans about specific careers encountered in military service. |
| • | Research military career opportunities on the Internet. |
| • | Read about & discuss careers in communication, fabric design, sculpture & media. |
| • | Reflect on military, art & media careers investigated throughout the year. |
Learning Standards English Language Arts
•
Connect reading with students' experience & the experiences of others.
•
Understand & use the writing process effectively (with 5-step process of pre-writing, drafting, revising, peer editing & publishing).
•
Employ a variety of formats & utilize technology to complete & enhance work.
Learning Standards Social Studies
•
Comprehend a variety of historical & social studies source documents & materials.
•
Conduct historical & social studies research (formulate researchable questions, use community as a resource, gather information from books & photos.)
School to Career Competencies
•
Develop Communication & Literacy Skills.
•
Use Technology.
•
Complete Entire Activities.
•
Use Team Skills.
•
Interact With Others.
Assessment Student teams meet weekly to discuss progress on research and writing and identify information or materials needed to continue project. Student-teacher conferences occur every two weeks to review, evaluate, and grade biography outline and PowerPoint Presentations (or download, 293 KB).
Software or Materials Used For dolls: fabric and sewing machine; Teach Yourself Cloth Doll Making Simple Techniques and Patterns for Dolls and Dolls Clothes by Jodie Davis 1995: Friedman/Fairfax Publishing; for information on Japanese families and artifacts: kits from Boston Children's Museum; for CD-ROMs on history: Eyewitness History of the World 1996: Dorling Kindersley; Grolier 2000 Multimedia Encyclopedia 1999: Grolier Interactive; Greatest Moments of the 20th Century 1994/5:The Wrightwood Company
Web Sites History comes alive with: Kids' Almanac , Veterans of Foreign Wars, History Channel, Civil War Soldiers and Sailors System, 54th Massachusetts Regiment, for intercultural: Intercultural E-Mail Classroom Connections, for military careers: The Basic Skills of Career Exploration
Keywords Service Learning, Citizenship, Mentoring, Japan, Veterans, American History, E-Pals, World War I, World War II, American Revolutionary War, Crispus Attucks
Final Words This service learning project shows kids how knowledge of history shapes the future. By listening to voices from the past and connecting with voices from another culture, students discover gratification in extending hands of friendship.
Teacher Tip Dolls? At first, boys and even some girls resist. Once they investigate materials and costumes, the most reluctant students get involved. At display time, watch the boys take credit for some truly authentic Notable Americans.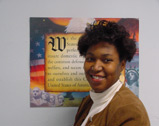 E-mail contact Cheryl Brown-Greene cbrown@boston.k12.ma.us

Teacher Bio Cheryl Brown-Greene's earliest memories center on events at a Veterans of Foreign War (VFW) post named for Patrick E. Toy, a World War I African American sailor. Recently, this Boston Public School computer teacher and lead teacher traveled to Japan through a Work Study/Travel Program sponsored by the Children's Museum of Boston. A visit to Hiroshima inspired her to revive a seventy-five old Friendship Doll Exchange Program where Japanese and American students share information about their respective countries. Member of Massachusetts Computer Using Educators (MassCUE), Cheryl leads workshops for that organization and has presented at the Massachusetts State House. Gratifying moment: News from a statewide VFW Essay Contest that her fifth grader won first prize. Singular achievement: Teacher Leadership Award National Foundation for the Improvement of Education.
Subject Areas Computer Studies, English Language Arts, Social Studies
Grade Levels K-5
Students Computer Studies from all programs